Other Shows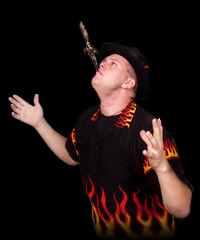 Full of comedy and skill, Philip DePalo has taken what he has learned from street performing at Baltimore's Harborplace and brought it to the stage. Constantly working on new material in a never-ending drive to be the best, or at least think he is, Philip can bring laughter to anyone.
From lemons to body parts, knives to torches, you could be catching just about anything but a cold during Philip's show. Spending hours perfecting routines has really paid off in the end as Philip amazes audiences with wild stunts and breath taking action. With his Fire Finale, the audience is kept on the edge of their seats throughout the entire show...just don't fall off. Whether it be wacky wine tasting or a knife routine worthy of another lawsuit, make sure you check out all Philip has to offer. Please contact Philip if you have any questions regarding the content or appropriateness of his show.
Prices for stage shows vary with each event depending on your needs. Click here for more information.
Philip's Grande Finale generally involves fire torches, which require a raised ceiling and an awareness of the smoke detection system. Philip is also a professional fireman with the Baltimore County Fire Department, so you are assured a performer who is well aware of the fire codes and fire hazards in many different buildings.
Email: info@philipdepalo.com