Strolling Performances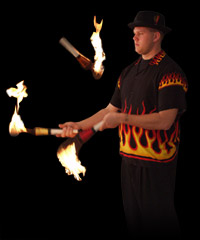 Philip began his performing career with strolling jobs. Strolling involves a walk-around performer entertaining crowds and small groups before moving on. Philip's Strolling performing generally involves juggling, magic or balloon twisting. Philip has created small routines that involve only a few people and some props. He has honed these skills as a strolling performer on the paths of the Maryland Renaissance Festival.
Balloons are a very popular style of entertainment since they leaves your guests with not only a smile, but a piece of memorabilia. Philip can create over 100 different custom balloon sculptures for your guests, from hats, cats, birds, and bats to dogs, turtles, and bunny rabbits, and many, many more, he will amaze each and everyone who approaches him for their custom creation.
Don't wait to book Philip for your affair. Click here for more information.
Email: info@philipdepalo.com